The Gory Details! - Recording Little Rooms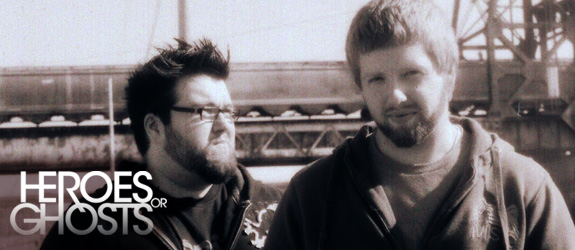 Up until a few days ago, you probably only knew FortySeven Media as those guys that make kick-awesome websites. But before there was a FortySeven Media, there was rock! (Insert Jack Black-like air guitar solo here.)
You see, back before Jon and I started FortySeven Media, we started a band with a couple of our friends. We wrote lots of songs, played more shows than we could keep track of, and didn't record nearly enough. In fact, only one full length album and one EP was all that existed of our years of hard work. But in 2004, we decided to fix that.
I have been to some really nice studios, sang into microphones that cost more than most of the cars I've owned, and listened to playbacks on the plush leather couches in dimly lit studio control rooms. And for that experience there was a small ransom to be paid. So rather than sink that money into a one time recording fest, I decided to invest in some recording equipment of my own.
Much plotting and planning went into this and I read reviews, looked at gear in stores, and asked the opinions of anyone I knew that had a clue about professional recording. I came up with the essentials needed to make the epic rock I dreamed of, and we got to work.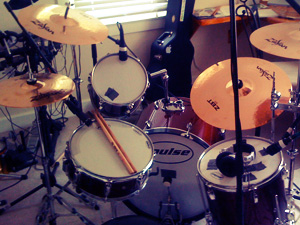 We started with the drums, like any good recording session should. (Or so I thought.) By this point the old band had dissolved a bit, but Jon and I carried on and our drummer, Jeremy Unthank, came in and laid down the drum tracks for four of the songs on the album. These were the old band songs that never were recorded so those were quickly recorded all in a single day's session.
We had borrowed the old sanctuary of the church we all attended and got some really great drum sounds in that large room with its wooden stage. This was the only time we ever were able to record drums in a decent sized room. Everything else would be recorded in little rooms.
That was the summer of 2005, a full year since I bought the equipment and threw myself into learning the art of recording. We quickly added guitars and bass to those four tracks with a borrowed Marshall JCM 900 half stack and all the free time we could manage. Since I wasn't married yet, I had a bit more free time than Jon did so I poured it into writing and recording and mixing and out of that came the song, Firewatcher. Not much else happened music wise the rest of that year, because we had started this business called "FortySeven Media," and it was beginning to dominate all of our spare time.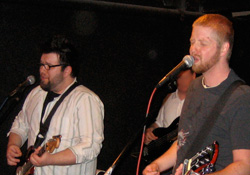 The music began to slow even further in 2006 as the only songs to be recorded were Beautiful and the demo tracks for Keep Listening. We had setup shop in a bedroom of my parents house that they we kind enough to let us use, and we crammed as much as we could get in the small amount of space we had available.
As 2006 was drawing to a close, Jon and I sat down to do some goal planning. By this point FortySeven Media had begun to really take off and do well, but we had sorely neglected the rock and roll and we were determined to get back to making it. This was the beginning of the real work on the album. I had just bought a house, and moved our setup into the office at the new place. We were excited and starting recording again.
However, it was about this time that we started talking to Apryl Lynn about recording her stuff and sure enough, we were side tracked again. But no regrets, Apryl's music turned out amazingly well and our album would just have to wait.
And wait it did. Until a catastrophic hard drive failure slapped us across the face and back into action. My main computer's hard drive began to fail. So I did like anyone would do and backed-up everything to our external hard drive. And sure enough, the computer died of natural causes and I got a new Mac to replace my dear old powerbook. Then it happened. The back-up drive. Wiped clean.
I'm not sure what caused it, but after trying everything in our power to salvage it, we finally came to grips that all our hard work was gone. Not just the music either, we had client materials for FortySeven Media on that back-up as well.
To say we were a bit depressed is putting it mildly. We talked about what to do and if we should just let it go or rebuild from scratch. But as I looked at my desk cluttered with notes and pens and burned CD's, an idea began to form. I looked at those burned CD's sticking out of stacks of paper, on top of the speakers and I suddenly remembered what was on all of them. Test mixes.
They were everywhere! It just might work! Trying to keep myself calm, I explained this hair-brained scheme to Jon and began rifling through the clutter on my desk snatching up CDR's like a game of Hungry Hungry Hippos. We listened through and picked all the best mixes and pulled them back into the new Mac. It was do-able. It would be hard, but we could use them. Thank God I'm so anal about testing mixes in the car!
This was just the thing we needed to get us back on track. From there on out, we recorded regularly throughout 2007 and 2008, right on up to the week of my wedding! When I got back from the honeymoon, I mastered it, we got the artwork together and called it done!
Over four years in the making, it was finally done.
The Technical Stuff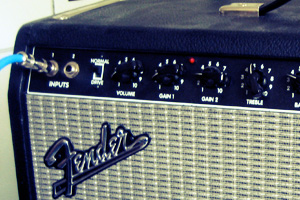 I'm not sure how many of our readers are also musicians, so the following may be of no interest what so ever to our design readers. But if you are like me, I like to know how things are made and what was used to make it. This stuff is mostly affordable gear available online and at many music stores. I'll give links where I can. If you have any questions, please ask and I'll do my best to answer them.
Recording Interface:
Microphones Used:
Guitar Amplifiers
Recording Software:
Monitors:
Microphone Preamplifiers:
Plugins and Software Instruments: