EECI2010 EU Wrap-up: Better format, Freedom and Making the Kick Awesome Show International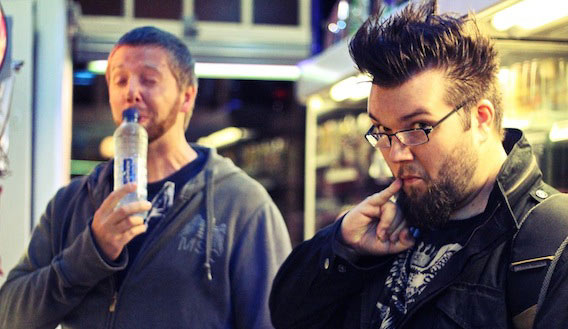 We're a little late to the party, but wanted to give a quick wrap-up on our experience at EECIEU 2010. The ExpressionEngine & CodeIgniter Conference was in it's third iteration, and I think it was the best. Robert from Whoooz! has been refining the schedule while still taking risks and trying new things. The single channel format this time around was much more enjoyable. At past conferences I kept having to choose certain tracks and felt like I missed things, so the simplification was great. The venue was very cool as well.
The Dev Day was an interesting experiment, and while I'd like to have seen it done a bit differently, it was cool to see everyone come together and make things happen. No one was able to finish, though and I think in the allotted time we had maybe forgoing the design and just having the EE work be the main thing would have been more realistic. Or maybe I'm just bitter because I drew a total blank and couldn't spit out anything decent

Anyway, Nate kicked off the opening day with an inspirational talk about Being Known by Our Work. Then he proceeded to throw a fireball on stage. Really. You can see his notes here:
There were so many good presentations after this I can't mention them all. A few highlights for me personally were Leevi Graham's eye opening look at the revenue and expenses they've put into Expressionengine-Addons and Greg Wood's followup to his Editorial Design on the Web presentation from the San Francisco edition of EECI. I wrapped up the day talking about EE2's custom publish area and you can check out my slides here:
Day 2 was just as chock full of goodness as the first and a few standouts for me were Matt Weinberg's Ecommerce and EE and Brandon Kelly's Make it Funky.
Best of all, we got to see lots of old friends and plenty of new ones. Yes, there was a bit of grumbling, but how can you complain when you're in a beautiful place like Leiden and it's their independence celebration the day after the conference? I've never seen a city shutdown and stick ferris wheels and roller coasters right in the middle of the street. It was pretty magical.
Finally, we got to shoot some footage for the Kick Awesome Show while we were there, making it officially international. Great fun to be sure!
Once again, our hats are off to Robert and the Whoooz! team for putting yet another amazing conference together. We will definitely see you all again in New York next year!