Syncing Your Sent Mail on Your Computer and iPhone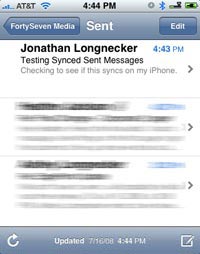 I've had my e-mail synced up between my iPhone and Mac for a while now, but for some reason I could never get my sent mail to sync. I mus have missed the boat on this one because it's actually not that hard, and I've found that Leopard makes it less panic-inducing (I'll explain later).
So when I knew I was getting an iPhone around last November, I went ahead and changed my 47m mail to an IMAP account so it would signal read/unread e-mails on all my devices. Apparently living in the dark ages, I had pretty much just used POP mail before that, keeping regular backups of sent and received mail in manual folders. A lame system? Yes, but it worked for me and kept the mail server flowing freely. And so was my first stupid mistake: I just switched it and didn't backup anything first. Since I had been using POP mail that pull the messages off the server and removes them after so many days, a bunch of my e-mails were gone! Whoohoo! Fortunately I got lucky; we were in the middle of switching hosts and the old host still had the mail servers active so I made an account tapping into their system and got the messages back.
Since I had never tried to sync my sent messages they were all still there stored locally on my computer so they were good. Until I tried storing them on the server and then they all disappeared, too. Thus the state of panic I referred to earlier. I don't remember how I got them back, but I did. It was a long time ago; my point is don't do that!
Fast forward to today. I've got the 2.0 goodness on my iPhone and I'm testing out MobileMe. Seems to work, but the same thing…my sent e-mail isn't synced up. Weird. So I got wise this time and decided to make a copy of my sent messages on my computer first and then head over to the preferences pane and choose "Store sent messages on server."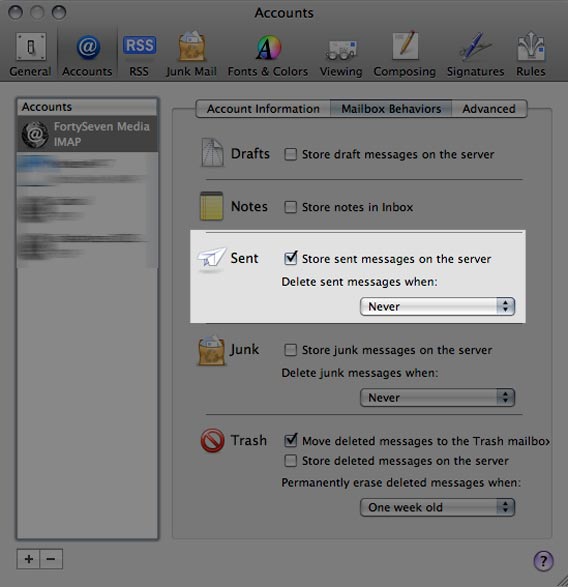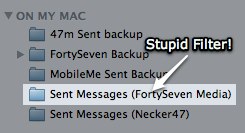 When I checked that and saved, sure enough away went all my sent e-mails, but I noticed something that the previous version of Mail didn't do; it made an automatic backup for me to save me from my stupidity! Way to go Apple. So I did a test, and presto, my sent mail is showing up in my Mac's sent folder and my iPhone's sent folder. Sweet! Now I just need to copy my backed up sent emails to the main sent folder and I'm up and running. This works with MobileMe and any IMAP account as far as I can tell.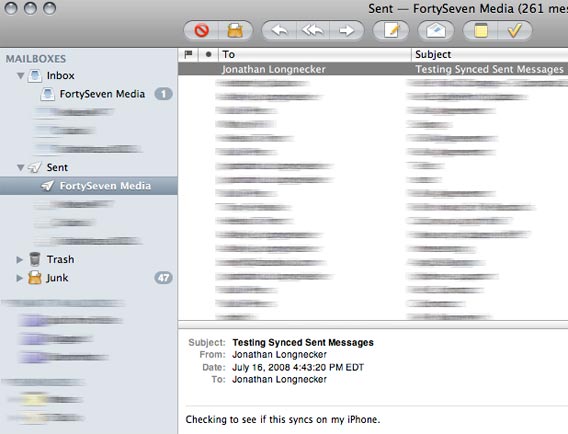 For me this fixes an annoying problem I've had for a while now. If I'm late to the party, I apologize! If it's new to you I hope it helps. Now if Apple can just get the MobileMe contact syncing to work I'll be set…