Stock Photo Sites: Please Be Creative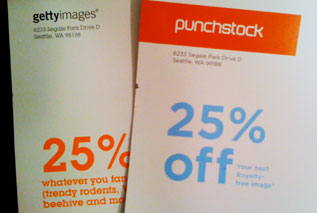 So I got these in the mail the other day (see picture). They were both roughly the same size, had big weird pictures on the front and were supposed to be cool, I guess. I glanced at them and noticed they both had the exact same offer. 25% off! That's kind of strange. Oh wait, apparently Getty Images and Punchstock are located in the same building! Same return address! What do you know? I think someone is trying to pull a fast one on me!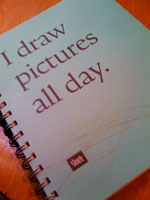 Message to Stock Photo sites: If you're going to be stupid enough to send me two mailers with the same deal and same return address from "different" stock photo companies on the same day, don't bother. I'm a designer. I'm going to notice these sort of things. And you're going to tick me off when I do. Pay attention to Veer. They send me cool stuff in the mail that I actually look at, use and appreciate. And guess where I go first if I'm looking for an image? I still use my "I draw pictures all day" notebook at every meeting I go to. Note the lovely scribbly additions made by my little girl

I'm not asking for much here. Speak to me. Really, though you should know this as designers are your target market. But, hey what do I know?