Design Hope: Logo Design Round 2
First of all, I'd like to thank everyone for their input on the last round of logos. While I'm not usually a fan of designing by committee (as in I'd rather impale myself on a pumpkin), the observations and general consensus were positive, well thought out and very helpful. Bravo! Version No. 2 was the resounding winner, but still needed a little love. As such, I've re-worked the dog head a bit so it looks more like a "G." Although I'm not too concerned about it. The name and connotation will do the job just fine (anyone ever seen the Guitar Center logo?). We got some good ideas from Scott and a few other people, but most of them ended up being too complex visually.
So what did we do? We kept it simple! That became the mantra for the new design. Since Scott was worried he might change development platforms we removed all references to the iPhone and focused heavily on typography. The dog still made it's way into this one because I think it just works. There's no simple way to show "someone coming from behind" and most of his ideas even involved dogs so the dog imagery made it through to the second round with some modifications and new silhouette ( I call him Plucky, he seems like an Underdog, methinks).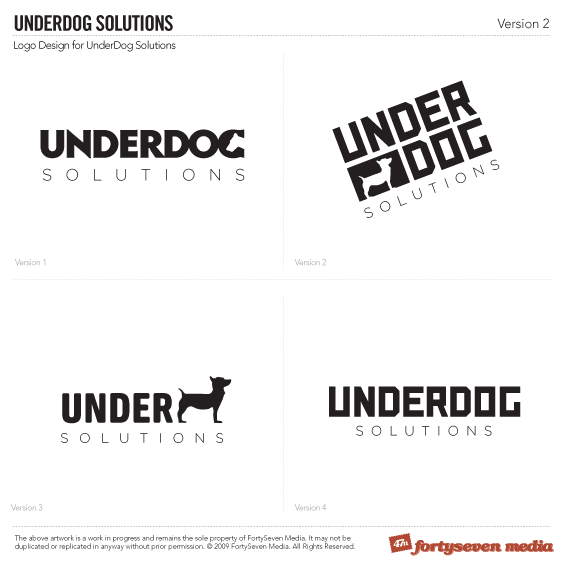 I personally think any of these would look great on an iPhone splash screen, but we're favoring 1 and 4. 2 is pretty interesting, too though.
Comments are below. You know what to do.