Custom Webclip Icons for your iPhone or iPod Touch Home Screen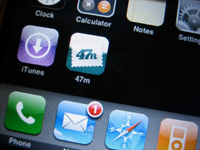 So some of you may have heard about the iPhone, iPod Touch update yesterday that lets you add shortcuts on your home screen to webpages. My iPhone does a nice job of taking a screenshot of the page I'm on and making a pretty little icon that looks like my other icons on the home screen. But wait! I want my logo and not a tiny version of the whole page! Turns out it's super simple to have your custom icon show up.
Ready? Make an icon that's 158x158. Save it as "apple-touch-icon.png," and put it in the root folder of your website. Wow that was easy.
But what if you need a different icon for a different directory on your server? Cameron Hunt has our quick fix. Put this line of code in your head tag:
<head>
  <link rel="apple-touch-icon" href="iphone.png"/>
</head>
Put the "iphone.png" file wherever you want and link to it!
Do keep in mind that the iPhone or iPod touch will automatically round the corners and give it the glassy overlay, and keep a few spare pixels around the edge as it seems to clip them. Also, the 158x158 size is because of the high resolution displays that Apple uses. When it gets scaled down, it looks nice and crisp like the factory set.
Thanks to Dan Dickinson and Playground Blues for their work.
Enjoy!