Why We Loved ConvergeSE 2012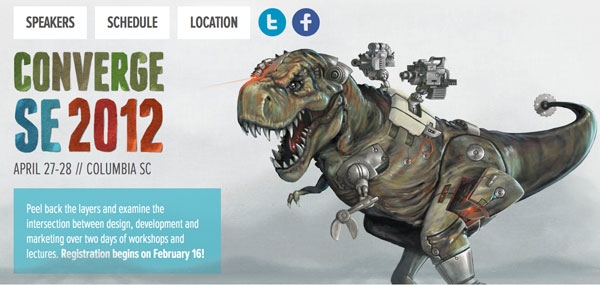 Nate and I had the pleasure of attending (and speaking) at ConvergeSE a few weeks ago, and while it's a little late for one of those "I take meticulous notes from every speaker and put them in one massive blog post" deals, I had to let everyone know what a great time we had.
Let's get this out of the way: ConvergeSE was by far the best conference we've been to. The talks were great, the workshops covered all sorts of interesting topics, but that paled in comparison to the people we met and the conversations that were had throughout the conference.
I'm not sure what magic is happening over there, but Gene and his crew have managed to attract the coolest, most interesting people into one place and give them the space, time and situations to allow them to talk until awesome things happen. There was also a great balance of skill sets and that alone sparked so many conversations that would have never happened. In short, the vibe was unlike anything we'd experienced before. And we liked it.
There was incredible sense of community, devoid of what I like to call "rockstar-itis" where certain speakers might get the impression that they're a big deal and the rest of us aren't worthy to take up any of their time. Shoot, who says you have to be a speaker to have that mentality? Either way, it really felt like everyone was just there together to learn and enjoy each other's company.
ConvergeSE was by far the best conference we've been to.
Finally, I really appreciate the laser focus the Converge crew had on the attendees. It's so easy to let the focus of a conference become the food or the drink or the cool venues or even the conference creators themselves, but I always felt like the knowledge, conversations, and opportunities that would arise out of having so many people with complementary skills together was the most important thing. And that, my friends is how it should be.
ConvergeSE sold out in 2 hours last year, so make sure to have that clicky finger ready the day tickets go on sale next year. You won't regret it.
Update: Converge is coming to Florida in early October so you don't have to wait a whole year to see the awesomeness!