Truth in Advertising. Or Not.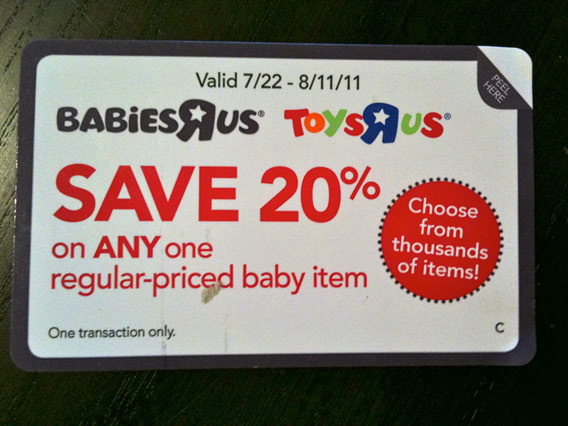 We got this coupon in the mail the other day from Babies-"R"-Us & Toys-"R"-Us. Notice it says, "Save 20% of ANY one regular priced baby item." Great! Fantastic! Then we turned it over.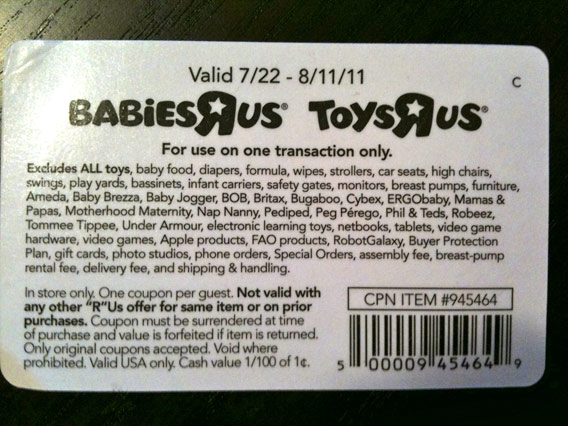 "Excludes ALL toys, baby food, diapers, formula, wipes, strollers, car seats, high chairs, swings, play yards, bassinets, infant carriers, safety gates, monitors, breast pumps, furniture, Ameda, Baby Brezza, Baby Jogger, BOB, Britax, Bugaboo, Cybex, ERGObaby, Mamas & Papas, Motherhood Maternity, Nap Nanny, Pediped, Peg Pérego, Phil & Teds, Robeez, Tommee Tippee, Under Armour, electronic learning toys, netbooks, tablets, video game hardware, video games, Apple products, fAO products, RobotGalaxy, Buyer Protection Plana, gift cards, photo studios, phone orders, Special Orders, assembly fee, breast-pump rental fee, delivery fee, and shipping & handling."
Really? Seriously? First of all this is ridiculous. Is there anything left in the store? Apparently "Thousands of Items" according to the hot pink circle, but seriously…what? Second of all why was there no indication that there was any fine print? Look, I did print work for a long time and I'm very familiar with the "asterisk." You know the - Here's a great deal, but there's a few exceptions - and I'm ok with those usually. I think what irks me the most about this is that it specifically says "ANY item" without any visual cue that it's not actually any item. It's horribly misleading. And then the fact that it excludes almost everything you'd want to use the coupon for.
And finally, why even bother with this coupon? Why not reword it so you say exactly what it's good for? I guarantee they're going to have a ton of pissed off people who bring this in and realize they can't use it on what they wanted to. Tricking people is no way to get ahead. Disappointed "R"-Uses. Disappointed.