Troy McNeil - FortySeven Media's Newest Web Ninja!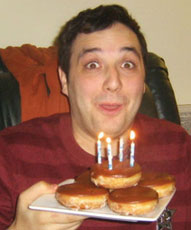 It is my great pleasure to introduce to our good friend Troy McNeil. Troy is our is our web ninja in training and his kung-fu is excellent. He may look like a mild mannered scooter enthusiast, but lurking under that calm exterior is the heart of a code warrior! He's stealthy too. He has already been at work on some of our projects and you didn't even know! But that time is past, today we welcome Troy to our blog. He'll be posting his thoughts on, well, whatever he wants because he's really funny. Plus, he can give you an insider's view of the inner workings of FortySeven Media.
So make Troy feel welcome and let the high fives flow freely.