Let's Talk About Accepting Digital Payments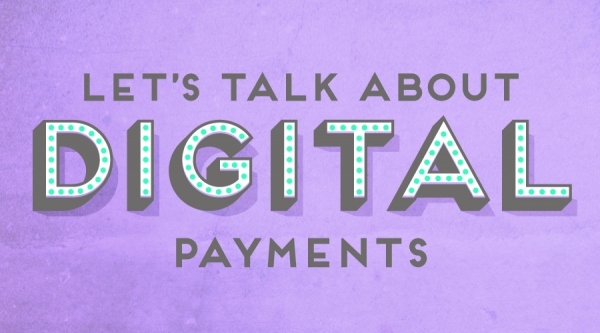 For many years, the only way FortySeven Media took money was by paper check. That check then had to be taken to the bank and deposited before the money would be in our account. This worked ok when we were sending invoices spaced out between project phases, but we recently moved to tracking our time and invoicing every two weeks. Obviously more checks were going to be going out, and the time tracking software we were using (Harvest) had built in support for accepting credit cards.
It was time to start taking digital payments.
Harvest (or just about any invoicing software) supports a lot of different gateways and merchant accounts so we did some research before settling on one. I'll just be covering the "big three," as these should be available for most apps, but let me know in the comments if we should be talking about some other ones.
Finally, we're based in the US so some of these may not be available if you're out of the country. Let's get started!
Paypal
Fees: 2.9% + .30 per transaction
The Good: Paypal has been around forever and is super easy to setup. Most of the time you literally just put in the email address you have on file with them and the invoicing software will make the magic happen. There are no monthly fees, and everyone knows who they are.
The Bad: Paypal is notorious for holding on to your money. They can just lock it up whenever they see a transaction that they feel is a red flag. Then you spend hours and hours proving to them why they should let you have your money. Also, moving money from your Paypal account to your bank account is a 4-5 businessday manual process.
Stripe
Fees: 2.9% + .30 per transaction
The Good: Stripe is the new kid on the block and very developer friendly. They don't freak out and hold onto your money - they act like a real merchant account without all the hassle of signing up for one. No monthly fees and the control panel is really nice and easy to use. Also, money is transferred automatically instead of manually, but…
The Bad: …It takes 7 2 days before they transfer it to your account. At this point I feel like I'd be better off accepting paper checks. I personally love Stripe and we use it for Kicktastic, but if I'm accepting large payments that need to cover paychecks and expenses that money needs to clear quickly. Wasn't that the whole point of accepting payments digitally? When we originally wrote this Stripe took 7 days to transfer. Now it's down to 2. So there's really not much bad about Stripe except for the way they deduct fees (see below)
Authorize.net (or whoever your bank uses)
Fees: $15-$20 per month, variable rate + .15 per transaction
The Good: This runs through your bank so it has direct access to your accounts. As a result, it gets deposited the next day. Now that's what we're talking about! Your percentage rate can be quite a few points lower, too because of the added security measures in place. It is variable, though - I can't even begin to list out all the reasons a transaction could have a higher or lower percentage rate. It's kind of like voodoo. Short story, though - it will most likely be less that Stripe or Paypal. The control panel also gives you a level of granular control for accepting payments that neither Stripe or Paypal offer.
The Bad: It's a huge pain to get setup. Think lots of documents and legal stuff. It's expensive (I think we had to pay a $100 one time fee plus that monthly fee). And most of these merchant accounts are huge corporations with crazy rules/regulations and general corporate stupidity.
What did we do?
We ended up going with Authorize.net for our payments because even though there was more setup time and cost on the front end, money got deposited much faster and automatically. Paper checks were a bottleneck to our business and the less time we spend screwing with it the more money we can make.
Another thing to think about. Stripe and Paypal only deposit the amount you actually get. So if you had a $1000 payment come in they deposit $970.70. This means when you go into your accounting software to reconcile the deposit it won't match. You'll have to do the math and add a line item to the invoice subtracting the fee. This could be good for tracking very specifically where these fees go, but we found it to be a massive pain when marking invoices as paid.
Authorize.net reports the full amount has been paid and then does a monthly batch withdrawal for your fees. For us this is much easier and saves us time when doing accounting.
Update 11/13/14 - Just wanted to mention that our bank called the other day to check in our account and I had the crazy thought to ask for a lower percentage rate on our authorize.net account. Since we had it for a few years they wasted no time in dropping us several points. So yeah - don't forget to ask for that kind of stuff. It pays off in the long run.
As you can see there are a lot of variables involved with this stuff. I'm sure I've only scratched the surface here, so let us know what other good and bad aspects you've run across accepting digital payments.