Ever Wonder What Your Tax Money Gets Spent On?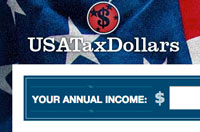 Well, in case you hadn't noticed there's an election coming up pretty soon. A pretty big one, actually. So in the spirit of all that is "true" in these crazy times, we want to share a small project with everyone.
It's called USATaxDollars.com. Just put in your annual salary and you see every last dollar that the government takes out of your paycheck; and what they spend it on. Guess what? I'm giving the government more money each month than my house payment! Now that's depressing.
Now I can't forget to mention that we only provided the graphics for this; our friends over at Fuscient have done the hard work of interpreting all the cryptic numbers from the US Printing Office and spitting them out into a nice, easy to understand format. On a side note, hopefully I'll be able to share the original project that got us working together in the first place very soon.
But seriously, no matter who you're rooting for this November, this is an unbiased breakdown based on numbers straight from Washington. No politician spins or bad reporting, we promise. Go check it out here http://usataxdollars.com/.