Be Thankful
I've been trying to come up with something to write about for a couple of days now and just realized that there's nothing wrong. If you think about it, we usually write when we're upset about something or when there's a problem we're trying to fix. Maybe we like to vent or rant all the time, but I thought it might be nice to take some time and tell you what's good in my life. Not that my life is better than yours! I'm just finding the good in what I've got. I hope you'll try to do the same.
My Family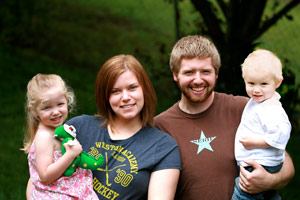 I have the coolest family. My wife is totally awesome, and we're expecting our 3rd child in October. She cooks seriously amazing food all the time, does the books for the business, takes care of the kids and manages to find time to clean the house. I could not do that!
My little girl, Adali will be 4 the end of this year and she's so smart, articulate and beautiful that I'm going to be fighting off the boys with a baseball bat in a few years. I love that she still likes hanging out with me

.
My son Jett is all boy. Grunts and yells and runs at you like a football player, but has the sweetest nature underneath. Makes my day when I see him laugh for real. I don't know where he got his intensity, but it adds an interesting dynamic to our otherwise laid back family.
On top of all this, all my immediate family gets along on both sides. I actually enjoy being around all of them. Pretty sweet.
My Job
FortySeven Media is doing great. We're busy and we're making money. We're working on exciting projects and I love getting up each day to make new stuff. We have several secret projects in the works that are going to be awesome.
I have the freedom to start work early or late, take a long lunch or the afternoon off if I need to. That in itself will spoil you! And since I'm here with my family all the time I can take a few minutes to relax and play with the kids whenever I want. Such a huge blessing!
My Future
You probably saw Nate writing about goals the other day, but I'm going to reiterate. You can't get somewhere you're not going. We've been pretty guilty of making enough money to pay the bills, but not having a real plan for the future of 47m. Well that's all changing. We're reading a book called "The Richest Man Who Ever Lived," based on Solomon and the book of Proverbs. Whether you believe in God or not doesn't really matter. The wise, practical advice in this book is challenging me to no end and I love it. Make goals you're excited about. Then figure out how to get there. Write it down. Check it off. Ta-da!
Everything else
I have a place to live, cars that run and food in the refrigerator. I get to use a Mac everyday and I love my iPhone. Sure there are some things I'd like to change, but the point is most of us have it so very very good. Take a minute and be thankful. You'll be glad you did.