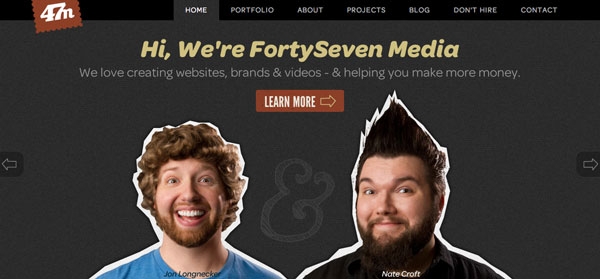 Note - I was going to have this all be one article, but it was too big and I don't want to bore you. So! Part Uno will focus on the design and stragegy while Part Dos will focus on the dirty technical details - from HTML5 & CSS3 to Responsive layouts and ExpressionEngine programming. Part Uno begins now:
Have you ever climbed to the top of a mountain, cooked a whole pound of bacon, ate it, hiked back down and built a mansion with your bare hands? That's what it felt like redesigning the FortySeven Media site.
Version 1 of fortysevenmedia.com was super gray and boring (seriously, it was gray). We were afraid to be ourselves and thought that in order to make it as a design studio we needed to be stuffy, businessy and impersonal.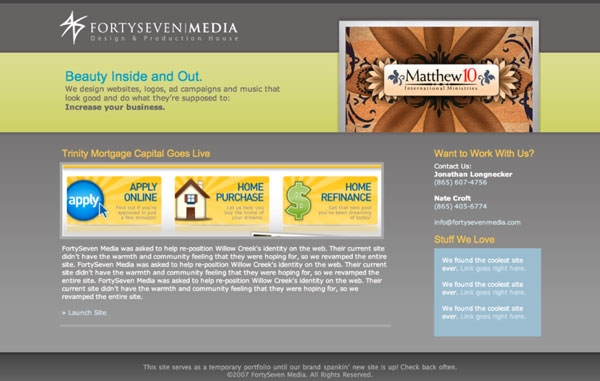 Next year we sat down and decided that if we were going to have our own company we should darn well act like it. With version 2 we overhauled the identity, made snarky pages like "Don't Hire Us," created a blog and before we knew it, we were getting business from all over the place.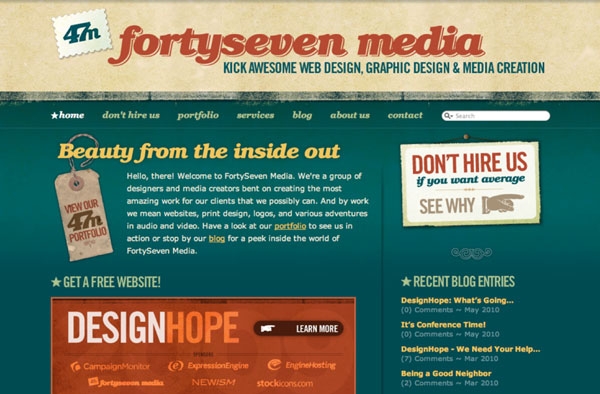 We had stumbled onto something, and quite frankly re-designing that kind of success is scary, especially when it provides for your family. The Lizard Brain was in full effect. We got talked about quite a bit when we launched the old site and we didn't want miss that magic this time around. Every time I sat down to work on it I just got overwhelmed. Could we make something nearly as iconic as the first go around? Turns out it didn't matter, because after waiting 4 years we were becoming obsolete. Don't get me wrong, the business was doing better than ever, but the jobs coming through the contact form were less interesting than they were a few years ago.
Keep Reading