Stylegala Reviews FortySeven Media Site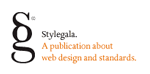 We are honored to have been listed on Stylegala's gallery this month. In addition to seeking out the raddest designs, Sylegala also has a nice newsfeed with relevant and useful info for web designers. Kick awesome for sure. Ty Gossman wrote a very nice review on the new 47m site, and people are giving us pretty darn good ratings. We are super excited to be so well received by the web design community. Check it out if you get a chance via the link below.
Read review of FortySeven Media at Stylegala.
P.S. – If you want to learn how to create a more profitable web shop check out Freakishly Profitable. It's the best way to make a "monster" adjustment to your web studio's bottom line.