Bigger is Not Always Better - Says Scared Care Bears and Hemingway!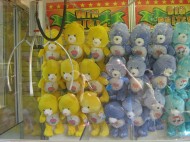 So the other day my wife and I spent the afternoon at Dollywood. We had just finished a roller coaster when I saw this huge machine, that had this huge claw, that housed these sweet little care bears looking at the claw in terror (particularly the yellow bears). I had never seen such a huge claw game in all my life.
It was no surprise to see it though because it seems that "Super Sized" is the cool thing to do now days. Just go to any fast food joint and order a combo and they will hand what used to be a 32 oz extra large cup to you as your combo drink. Now there is nothing wrong with wanting a little bang for your buck, especially if you really really dig mountain dew. There comes a point though where "SUPER SIZE" does not necessarily equal Kick Awesome. So what's a designer to do in this age of jumbo everything?
The answer can be found by going to your local book store and picking up a copy of The Old Man and The Sea, by Ernest Hemingway. Hemingway was a master of using simple writing in the most powerful ways possible. He showed that you do not have to write an epic to be an epic writer. And that is something that we as designers would be much better off by remembering. So here are some quotes from Hemingway that, if applied correctly, will make your work a little more "Nobel Prizeish" and a little less "Fast Foodish":
"If a writer knows enough about what he is writing about, he may omit things he knows. The dignity of movement of an iceberg is due to only one ninth of it being above water."

"My aim is to put down on paper what I see and what I feel in the best and simplest way."

"Never mistake motion for action."

"There is nothing to writing. All you do is sit down at a typewriter and bleed."

"We are all apprentices in a craft where no one ever becomes a master."
P.S. – If you want to learn how to create a more profitable web shop check out Freakishly Profitable. It's the best way to make a "monster" adjustment to your web studio's bottom line.